Majestic mountains, serene lakes, rolling hills, and lush forests. This is Ghana, the home of amazing and Luxury Resorts, magnificent landscapes with its capital city(Accra), the center of the world on map.
Ghana is becoming known for its spectacular and often wild, remote landscapes along with a wealth of opportunities for outdoor adventure, but that doesn't mean your only accommodation option is camping. While that can be a fun way to experience it, if you're looking to go all out there are plenty of Amazing and beautiful resorts and lodges to choose from. These, in particular, offer some of the most luxurious stays in the country.
The luxury resorts are not only located along the coast but along Lake Volta and on small islands as well as inland offering luxury relaxation and experiences which will blow your mind.
What Makes Resorts Luxury or the Best?
You may be searching for a luxury hotel or resort for your next vacation. Or, maybe you're an aspiring hotelier planning out what's sure to be the next luxury accommodation in the area for tourists and staycationers alike. While there are no industry standards (and some may say that it is an overused term for marketing copy), the truth is that when consumers see that essential word, certain thoughts spring to mind.
Visitors expect quality in customer service and room design, at the very least. And, given the higher cost of 4- Star and 5-star lodgings, tourists will understandably expect this from a premium resort.
5 Features That Make Resorts Luxury or the Best?
1. A good location
Whether you're a beach bum, you love the hustle and bustle of a large city, or you want to wake up to a picturesque countryside outside your window, a stunning location is key to a luxurious vacation.
2. Unpararelled service & convenience
3. Outstanding decor and room amenities
4. A memorable, satisfying dinning experience
5. Activities & fantastic recreation
Now, here is the list of the top 10 amazing and luxury resorts to visit in Ghana in 2022
Top 10 Amazing and Luxury Resorts to Vist in Ghana in 2022
Aqua Safari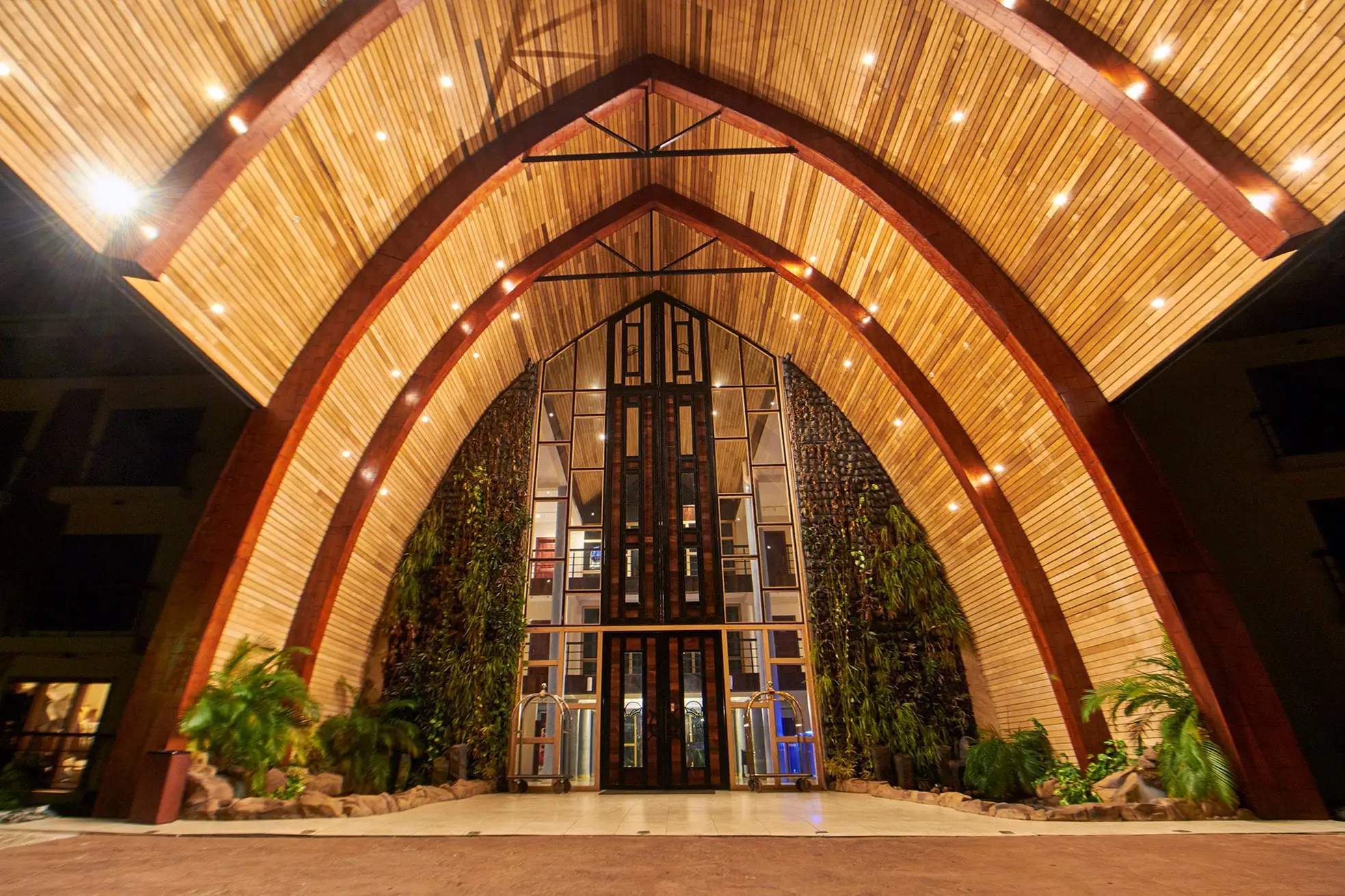 Get Aqua Safari Deals from Us
Aqua Safari Resort, a top eco-friendly luxury getaway resort in the heart of Ada in the greater Accra region of Ghana, West Africa offers to you our esteemed guests, wonderful experiences in our amazing facilities that have been carefully designed for your relaxation and pleasure. Aqua Safari Resort is a great destination for fun holidayers as well as business and organizational gatherings all over the world. At Aqua Safari, our aim is to conserve nature as much as possible and this is done by striking the balance between nature and modernity hence our slogan 'Bringing you closer to nature.
Activities & Attractions
Jet Ski Training & Riding
Kayaking & Canoeing
Take Off on a Horse
Segway Riding
Flyboarding & Jet Lev
Cruise the Night
Fishing
Breakfast by the Beach
Many More
Location
Ada, Volta, Ghana
The Royal Senchi
The Royal Senchi Hotel and Resort is situated in one of the most beautiful locations in Ghana on the banks of the famous Volta River in the Eastern Region of Ghana and about 90 minutes drive from the capital city Accra.
There are 84 rooms with spectacular views and the unique architectural design blends typical traditional Ghanaian styles with modernity of the highest international standards of comfort.
The hotel allows for easy access to a lush green 35 acre conservation nature park – home to rare butterfly and bird populations. The Royal Senchi has won a number of coveted awards and are proud to be considered one of the finest hotels in West Africa.
There are so many fun and interesting things to do that your stay could feel like a short hour!
Activities & Attractions
NATURE PARK
KAYAKS
SPA
SWIMMING POOL
TENNIS
GYM
GOLF DRIVING RANGE
BOAT RIDES
LIBRARY
HELIPAD
Many more
Location
Senchi Ferry Road, Akosombo, Ghana
Lou Moon Resort
This 24-acre (9.7ha) resort is located in the small community of Agyan, in Ghana's Western Region, on the private beach of an exceptionally picturesque bay. Lou Moon's "village" of structures is overseen by Belgian designer Paul Ramlot and consists of low-slung, thatched houses that fit perfectly with the terrain. There are well-equipped family villas with pools available for accommodation. If you're looking for a romantic getaway, try to book one of the two villas with a clifftop infinity pool.
Activities & Attractions
Kayaking and Paddleboards
Boat Trip
Hiking
Beach Massage
Location
Agyan via Axim Western Region, Ghana
Lemon Beach Resort
Lemon Beach Resort, located near Elmina, is famous for its delivery of refreshments to your sunbed at the push of a button. The resort's beach is only safe for low-tide swimming, although that matters less than you may think, due to several other nearby Atlantic Ocean swimming options. There are additional trips and events planned, such as evocative campfire evenings on the beach. Take advantage of the opportunity to visit a local school and give materials as well.
Activities & Attractions
Golf Driving Range
Health Club
Helipad
Indoor Children's Playground
Kayak & Pedaloes
Library
Massage
Mini Club for Children
Nature Park (Island Tour)
Boat Trips
Location
J.J. Rawlings High Street 9, Elmina, Ghana
Digital Address CK-0090-9318
White Sand Beach Resort
On the West African coast of Ghana, the White Sands Beach Resort and Spa combines luxury and exclusivity, in a delightful, exotic, understated manner, while the resort with 10 well appointed individually designed suites & chalets is situated amidst 60 hectares of tropical garden with exotic plants & trees brought in 9 different countries with its private beach, club house, restaurants & bars, tennis court, and helipad.
While the beach club is separated from the resort by the village of Gomoa Fetteh on the one side and the exuberant lively fishermen on the other, tucked snuggly between the ocean and the bird sanctuary of the Kako Lagoon. The White sands Beach Resort and Spa offers friendly form duly blended with African charm, culture and tradition.
Activities & Attractions
Walks
Horse Riding
Monkey Sanctuary
Shrine Elmina
Cape Coast Castle
Deep Sea Fishing
Cape Coast Market
Achimota Golf 9 holes 30 kms / 18 holes 55 kms
Location
Gomoa Fetteh, Central Region. Ghana
Zaina Lodge
West Africa's first luxury safari lodge
Zaina Lodge has earned numerous accolades and recognition. These include the 2017 World Luxury Hotel Award, 2017 Trip Advisor Certificate of Excellence, and 2018 Luxury for Development GEM Award.

All 25 rooms are individual luxury tented chalets, complete with private balconies. There are indoor showers, as well as outdoor showers for those who like to bathe under the stars.
Zaina Lodge is located within Mole National Park, the largest game reserve in the country. The lodge looks out over seemingly endless savannah. There are two busy waterholes frequented by animals such as elephants, waterbucks, kobs, bushbucks, hippopotamuses, warthogs, water buffalos, hyenas, and baboons.
Zaina Lodge in Ghana is the luxury West African experience you have been waiting for. Maraba!
Activities & Attractions
Mobile safaris
Walking safaris
Specialized Eco-Learning safaris
Location
Zaina Lodge, Mole National Park,
Northen Region, Ghana
Peduase Valley Resort
Activities & Attractions
Multi-purpose sports court
Pet Zoo
Spa
Playground
Location
Ankama Close, Peduase Aburi. Near the Peduase Presidential Lodge.
Peninsula Resort and Golf Club
Discover serenity at Peninsula Resort & Golf Club, a relaxing countryside retreat that invites you to escape from city life. Perfectly located amidst the majestic Akosombo Mountains on a sprawling country estate only an hour and half drive from Accra. The hotel offers a charming blend of classic style, elegant comfort, spectacular views and rich natural heritage. Peninsula Resort features a 550metre Canopy walk, two tennis courts, two swimming pools, and a 9-hole Golf course with upper terrain vehicles. It is located in Akosombo in the Eastern Region of Ghana, overlooking the Volta River.
Activities & Attractions
Horse Riding
Golfing
Hiking
Tennis
Boat Ride
Biking
Shai Hills Game Reserve
Peninsula Ultra
Boti Falls
Location
EA-0778-8781. Ajena, Akosombo
Maaha Beach Resort
A testament of the Nzema vernacular architecture, fused into remarkable scenery provided by the Atlantic Ocean and the vast ecological landscape. The Beach Resort, is the perfect getaway for leisure located within the rich oil and gas hub of Ghana, which shares a border with Cote D'Ivoire, and is immersed in Ghana's diverse culture, historical sites, arts and crafts.
Activities & Attractions
Golf Driving Range
Health Club
Helipad
Indoor Children's Playground
Kayak & Pedaloes
Library
Massage
Mini Club for Children
Nature Park (Island Tour)
Boat Trips
Location
Anokyi, Ellembele District, Western Region, Ghana.
Golden Beach Hotels
The Golden Beach Hotels Group has established a reputation as being the finest resorts in Ghana.
The Golden Beach Hotel is a group of 3 resorts. Each of the hotels provides maximum comfort and each property has business and conference facilities.
The 152 rooms are laid out in chalet fashion, creating the feeling of a village complete with restaurants, pool, shopping mall and open air café-restaurants. We look forward to your next visit.
List of The Golden Beach Hotels
La Palm Royal Beach Hotel
Elmina Beach Resort
Busua Beach Resort
La Palm Royal Beach Hotel
A 152 room hotel including Royal, Presidential, and Junior Suites. It also has eight Restaurants and Bars, including an English-style pub, ice cream shop, art gallery, hotel shop and 2 international car rental agencies, Hertz and Avis Car Rental…
Elmina Beach Resort
Elmina Beach Resort is Ghana's largest hotel outside of the capital city of Accra. Its 100 luxurious rooms include a Presidential suite and 8 crown suites offering guests a relaxing and refreshing stay…
Busua Beach Resort
This resort, which has been in existence for approximately 40 years, is known as a destination for leisure and destination for leisure and pleasure providing accommodation for travelers in 53 well – appointed rooms built…
This award-winning three-star resort, situated on several acres of sandy beach in Busua, a fishing community three hours from Accra, has 62 chalet-style accommodations with balconies or gardens. There are two on-site restaurants that specialize in regional cuisine, a nightclub, tennis courts, and a children's pool and playground among the amenities. A few of the units feature living areas and kitchenettes to themselves. All of this is taking place in a region of the nation that did not have power until the 1990s.
Do you know of any resort we have not included here? Please add it in the comment session for review.