Ghana, known as the "Gateway to West Africa," is a land of captivating landscapes, vibrant culture, and warm hospitality. Nestled in the heart of this beautiful country lies Safari Valley Resort, a hidden gem that offers a unique and unforgettable experience for nature enthusiasts, adventure seekers, and relaxation seekers alike.
Which region of Ghana is Safari Valley?
Safari Valley Resort is an eco-luxury resort located in the Okere District of the Eastern Region of Ghana. It is set on 200 acres of land.
Let me take you on a virtual journey to explore the wonders of Safari Valley Resort, discovering why it has become a sought-after destination for travelers from around the globe.
Safari Valley Resort Is A Serene Oasis in Nature's Embrace
Safari Valley Resort is a haven of tranquility, surrounded by the breathtaking beauty of the Ghanaian wilderness. With lush greenery, rolling hills, and a picturesque lake, the resort blends seamlessly with its natural surroundings. As you arrive at the resort, you are greeted by a sense of peace and a gentle symphony of chirping birds and rustling leaves, providing an instant escape from the hustle and bustle of everyday life.
Luxurious Accommodations
The resort offers a range of luxurious accommodations to cater to every traveler's needs. From cozy and comfortable chalets nestled in the forest to spacious villas and cabins with private balconies and en-suite bathrooms. Each room is thoughtfully designed to provide a serene and stylish retreat. Immerse yourself in the tranquility of nature while enjoying modern amenities and personalized service.
Wildlife Encounters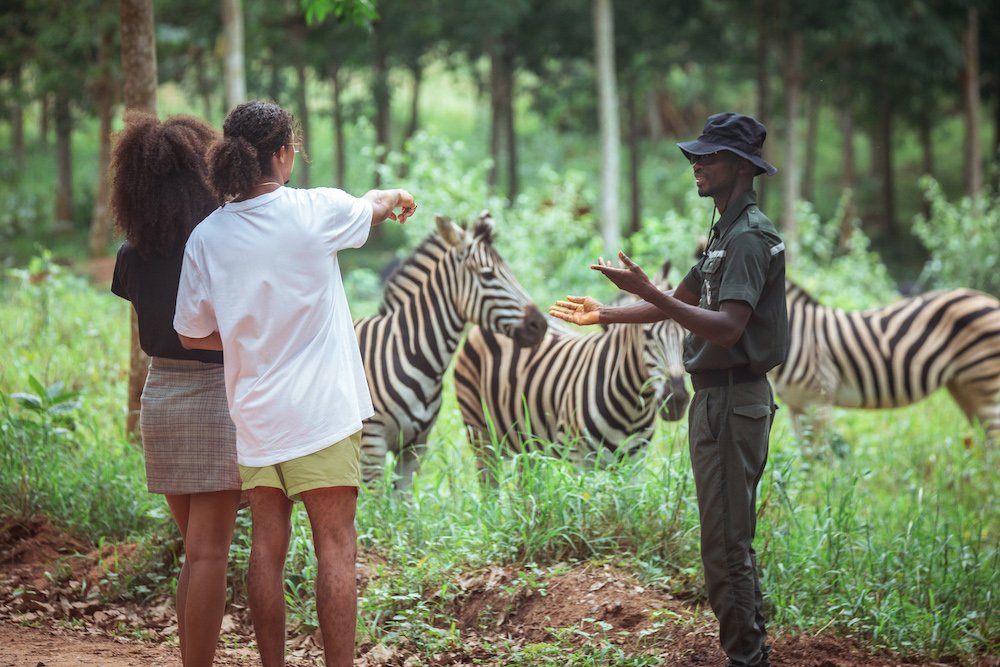 One of the highlights of Safari Valley Resort is its close proximity to wildlife reserves and national parks. Embark on an exhilarating safari adventure and witness majestic elephants, graceful antelopes, and curious monkeys in their natural habitat. The resort's knowledgeable guides will accompany you on this immersive journey, sharing insights about the local flora and fauna, ensuring an educational and awe-inspiring experience.
Outdoor Adventures At The Safari Valley Resort
For those seeking a dose of adrenaline, Safari Valley Resort offers a wide range of outdoor activities. Take a thrilling canopy walk through the treetops, go on an exhilarating zip-lining adventure, or set out on a hiking expedition to explore the hidden gems of the surrounding landscape. The resort also provides opportunities for bird watching, fishing, and boat rides on the tranquil lake, promising endless adventures for outdoor enthusiasts.
Wellness and Relaxation
Indulge in ultimate relaxation and rejuvenation at Safari Valley Resort's wellness facilities. Treat yourself to a soothing massage at the spa, take a refreshing dip in the infinity pool overlooking the verdant hills, or simply unwind in a hammock surrounded by nature's symphony. The resort's serene ambiance and wellness offerings provide a perfect balance between adventure and relaxation, ensuring a truly rejuvenating experience.
Cultural Immersion
Ghana is renowned for its rich cultural heritage, and Safari Valley Resort embraces this heritage by offering guests an opportunity to immerse themselves in the local traditions. Engage in traditional dance and drumming sessions, visit nearby communities to interact with locals, or savor authentic Ghanaian cuisine prepared with fresh, local ingredients. Immerse yourself in the vibrant culture and warm hospitality that Ghana is known for.
Safari Valley Resort For Conference and Events
If there's no escaping work, Safari Valley is a stunning and calm oasis to hold a meeting. Our conference facilities can comfortably seat up a sizeable number of people, whilst the restaurant can accommodate over 1200 people for a breakfast meeting al fresco!
Popular Amenities Of The Safari Valley Resort
A private swimming pool
A spa
A restaurant serving African and international cuisine
A bar
A game reserve with a variety of animals, including lions, elephants, and giraffes
Many more
Popular Activities At The Safari Valley Resort
Arts & Crafts Events
Basketball
Cycling
Darts
Golfing
Lawn Tennis
Table Tennis
Traditional Dances
Visit to Safari Farms
Volley Ball
Many more
Safari Valley Resort Packages
A Day Tour Package
Adults (20years+)
650 GHs
Teens
(13 – 19 Yrs+)
350 GHs
Kids
(6 – 12 Yrs)
250 GHs
2 Kids
(Below Yrs)
Free
Package Include
i. A guided wildlife / Experiential tour of the eco-park
ii. Meals/Food
Freshly squeezed juices on arrival
1 Meal: Choose between breakfast, lunch or dinner made from fresh farm produce (3-5 course meal)
All meals are served with freshly squeezed fruit juice.
iii. Recreational Activities
Access to all recreational activities such as Walking/Jogging Trails, Hiking, Bicycle Rides, Segway Rides, Oware, Jenga, Dominoes, Animal Feeding, Archery, Table Tennis, Petanque (Lawn Bowling), Bowling, Dart, Board Games, Swimming, Water Aerobics, Football, Gym, 9 Hole Golf, Basketball, Volleyball, Badminton, Lawn Tennis (Grass court), Horseback Riding, Children Amusement Park, and many more surprises
Here are some reviews from TripAdvisor
---
"The resort is absolutely beautiful and the staff are incredibly friendly and helpful. We had a wonderful stay and would highly recommend it to anyone looking for a relaxing and luxurious getaway."

— Lisa S

Safari Valley Resort in Ghana is a hidden paradise that seamlessly combines natural beauty, adventure, and relaxation into an unforgettable experience. Whether you seek thrilling wildlife encounters, outdoor adventures, or a serene escape from the world, this resort offers something for everyone. Discover the magic of Safari Valley Resort and create lasting memories in the heart of Ghana's stunning wilderness. Plan your visit and embark on an extraordinary journey that will leave you longing to return to this captivating oasis time and time again.
Your opinion even makes this better. Let is know if this article was helpful in the comment section below.