Coffee culture is growing in Ghana. Gone are the days when people were happy to visit only drinking bars. There is an increase in coffee consumers in Ghana today and they are looking for something more exotic from their favorite beverage and a rash of independent coffee houses are popping up across the length and breadth of Accra. Many of the cafes in Accra go the extra mile to personally source their coffee beans from small-volume farmers who produce an excellent fair-trade product. Several of the best coffee shops in Ghana also serve Juice, Ice cream, parfait, meals, or pastries, but for some, it is purely about the coffee.
You probably found this article because you may be planning to visit Ghana or you are already in Accra, Ghana, and looking for the best coffee shops in Accra to enjoy a cup.
After Searching and visiting most of the coffee shops, here are the cafes that provided a great atmosphere, unique designs, and most importantly, great coffee!
CAFE KWAE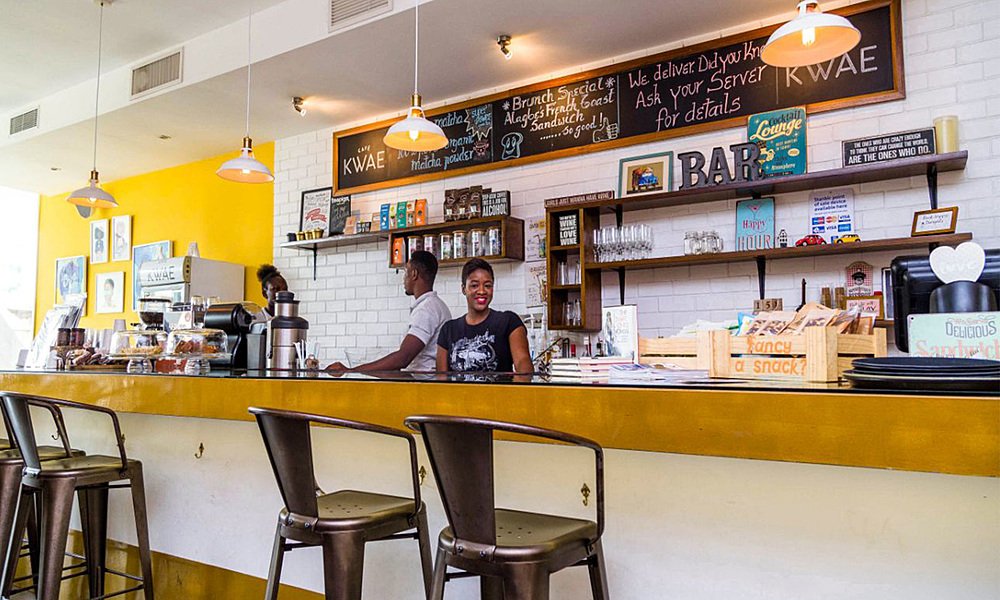 Tagline: Simple, fresh food. Cosy vibe. Served with love.
Café Kwae is where Accra locals and visitors seamlessly cross paths to enjoy a space that feels like home and reminds them of the places they've traveled, all at the same time. What better way is there to build bonds and develop a sense of community, than over thoughtfully curated wholesome and delicious meals, locally sourced and made with love?
From the moment a freshly prepared salad is plated and served to the first sip you take of a deliciously thick fula milkshake, you feel the love – down to the tiniest of details.
Their aim is to serve up simple food that's always fresh, consistently delicious. they are committed to quality service set in a delightfully cozy environment, where the vibe is chill and the Wi-Fi is strong.
Second Cup
When you want to have a short meeting with a friend or business client, or you do not really want a meal, rather a bite and something to drink, Second Cup is a great place for a cup of good coffee or tea, and perhaps a pastry.
Second cup is a Canadian franchise operating in many parts of Accra with sophisticated decor and chic dark branding. To match a superior coffee reputation, a great ambience and awesome customer service is provided across all their branches.
Kukun Cafe & Co working Space
Kukun is a 2in1 in our list because it offers both cafe and co work space. Kukun is set up to provide an inspiring space where entrepreneurs and small businesses can work, meet, collaborate and socialise.
Workspace packages have been tailored to help establish and nurture emerging creative, companies grow their businesses.
The cafe and bar on the ground floor is open to the public. With a large outdoor garden and air-conditioned inside space that let you enjoy our cafe and working space.